LE BCVB AU FESTIVAL !
Pour la seconde année consécutive, et à l'occasion de la 8ème édtion du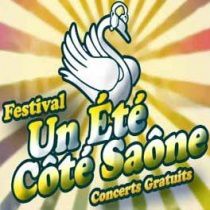 Festival "Un Eté Côté Saône", le BCVB fera découvrir au plus grand nombre le Basket-Ball dans le cadre on ne peut plus estival de la "Plage" de Villefranche, au bord de la Saône, le 10 juillet 2013.
Le Basket Caladois sera donc l'un des 5 Clubs Sportifs qui animeront la partie sportive du Festival, à partir de 16:00 le mercredi.
Un Festival qui, à l'initiative de la Municipalité, offre aux Caladois du 06 au 14 juillet une foule d'aimations très "chaudes" pour tous les âges et tous les publics : concerts, spectacles, cirque, convivialité, et bien entendu, le grand feu d'artifice de la Fête Nationale !
Ne manquez pas ce rendez-vous, le festival "Un Eté Côté Saône"... the place to be !
En savoir plus : aller sur le site du festival en cliquant ici